LEADING THE CHARGE: positive reinforcement is given to union construction
The City of Cincinnati continues to lead the state of Ohio in implementing positive labor and workplace reform measures. Yesterday, Mayor John Cranley and Vice Mayor David Mann announced a package of city labor and workplace reforms aimed at strengthening the middle class. Other community leaders were present for this monumental announcement, including State Senator Sherrod Brown.
Just last month, Cincinnati became the first Ohio city to pass a wage theft ordinance, protecting employees by imposing penalties on employers who do business in the city of Cincinnati and who do not pay their employees the wages they have earned.
Yesterday's reform package is also the first of its kind in Ohio. It includes three key components: 1) creating a City prevailing wage law, 2) raising the City's living wage to $15/hour for full-time employees and $10.10/hour for part-time workers, and 3) implementing crane safety measures.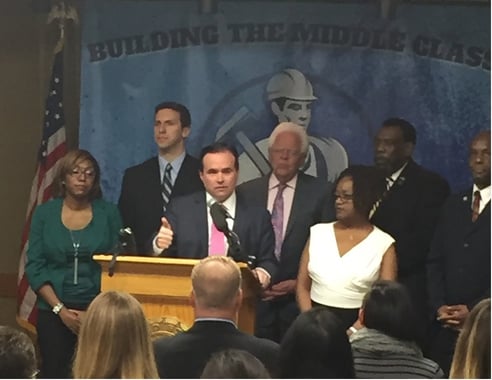 City Prevailing Wage
The City of Cincinnati's prevailing wage law will expand the types and number of government subsidies that trigger prevailing wage requirements. If triggered, the City's prevailing wage requirements will apply when the State's requirements are not triggered.
Prevailing wage laws require construction workers be paid a wage and benefit package based on the majority of what the workers in that region earn on public construction projects. Prevailing wage ensures fair competition by not allowing unscrupulous contractors to undercut their competition.
Numerous peer reviewed studies over the past 10 years have shown that prevailing wage does not significantly raise the cost of public construction and protects workers by employing contractors with better safety stan
dards.
Many developers and attorneys have exploited legal loopholes and have artfully structured one-sided agreements, which provide government subsidies to private entities without triggering the state prevailing wage requirements. This measure ensures that there will be a safety net of sorts, which will catch those trying to skirt state prevailing wage laws by enforcing the city requirement.
Specifically, city prevailing wage must be paid to workers on any project that has a total cost that exceeds $5,000,000 and receives more than $3,000,000 in city subsidies. If the law is violated, there will be a time to cure. Those who fail to cure, will have to repay all city subsidies and face debarment from doing business with the City for three years.
City Living & Minimum Wage
In order to keep up with inflation, the city will raise its living wage rate to $15/hour for full-time employees and $10.10/hour for part-time and seasonal workers.
Going forward, these wage rates will be adjusted annually. The law further provides that no full-time position can be replaced by part-time positions in order to avoid paying the higher wage.
This raise has interesting timing, as a bill was introduced in the Ohio House of Representatives last month which proposes raising Ohio's minimum wage from $8.10 per hour to $10.10. Perhaps, Cincinnati's measure will serve as persuasive policy for the committee.
Crane Safety Measures
After the devastating crane collapse in NYC as well as the crane collapse at the Banks construction site, Cincinnati will implement crane safety measures to ensure that: 1) all crane operators in the city are qualified, and 2) all crane operators are appropriately insured.
More specifically, crane operators will be required to meet minimum safety certifications as certified by the National Commission for the Certification of Crane Operators (NCCCO). The amount of insure required will be based on the scale of the project.
ACT Ohio hopes this reform model will be adopted by other municipalities in Ohio. We applaud Cincinnati for its progressive efforts!
---
LaborTools powered by BMA Media Group is used to help strengthen our union client's organizations. From working with unions from the local level to the international, with training funds and labor management partnerships, as well as other labor organizations, BMA has experience with organizations of all sizes. We are here to create and implement unique and customized marketing campaigns for our clients.
At BMA, we offer services in the following categories: union event services (from writing the history of your union to executing the logistics of an event,) video production, website design, union marketing campaigns, print and broadcast advertising, social media management, development of print materials, building trades industry education, labor public relations and crisis management, union merchandise, as well as strategic branding and marketing of union organizations.
BMA Media Group is a Union Building Trades Contractor, signatory with International Brotherhood of Electrical Workers Union Local 673 and International Union of Painters and Allied Trades DC 6 / Sign Display and Allied Trades Local 639. BMA Media Group is also signatory with AFTRA and an affiliate contractor of the Cleveland Chapter of NECA.