Producing memorable union events for retirees.
BMA Media Group and Boilermakers Local Lodge 154 partnered together to execute the 2019 Boilermakers Local 154 Retirees Dinner Dance on April 6 at the Wyndham Pittsburgh Downtown.
Recognizing the retirees
After a 10-year hiatus, the union determined it was time to recognize their retired members with a celebratory dinner dance. The local called on the Union Events team at BMA Media Group to help resurrect the event honoring and celebrating the retired members of Boilermakers Local 154 for their many years of service and dedication. The evening recognized 76 members who retired within the past decade, including special acknowledgement of the retired officers of Local 154. The retirees received a signature ring showcasing the Boilermakers Logo to signify their years of commitment to the International Brotherhood of Boilermakers, the industry and their communities.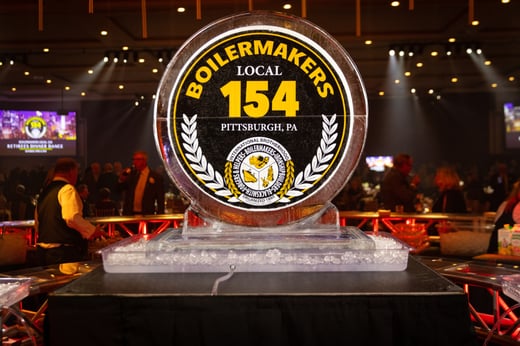 The Retirees Dinner Dance was attended by friends and family of the honored retired members, current members of Boilermakers Local 154 and industry partners. The event featured a custom circle bar with dynamic ice sculptures highlighting the Boilermakers Local 154 logo as well as replicas of the ring. There was also a photobooth that allowed members and guests to capture the excitement of the evening and take home their photos in a custom frame.
Producing more than just union events
The Union Events team at BMA Media Group managed all event logistics throughout the evening including seamless execution of the ring ceremony. Additionally, BMA produced a commemorative program book for the event, handled invitations and RSVP tracking, orchestrated the schedule of speakers and procured the parting gifts for all guests.
Shortly after the event concluded, Business Manager of Boilermakers Local 154, John Hughes, reflected on the success of the event.
"Just wanted to say thank-you again for all of your hard work putting together the Dinner Dance, we are still getting lots of calls from people saying how incredible it was!! It was so nice working with you guys and we look forward to doing it again in the future!!"
If you are interested in learning more about the event services offered by BMA Media Group,
---
LaborTools powered by BMA Media Group is used to help strengthen our union client's organizations. From working with unions from the local level to the international, with training funds and labor management partnerships, as well as other labor organizations, BMA has experience with organizations of all sizes. We are here to create and implement unique and customized marketing campaigns for our clients.
At BMA, we offer services in the following categories: union event services (from writing the history of your union to executing the logistics of an event,) video production, website design, union marketing campaigns, print and broadcast advertising, social media management, development of print materials, building trades industry education, labor public relations and crisis management, union merchandise, as well as strategic >branding and >marketing of union organizations.
BMA Media Group is a Union Building Trades Contractor, signatory with International Brotherhood of Electrical Workers Union Local 673 and International Union of Painters and Allied Trades DC 6 / Sign Display and Allied Trades Local 639. BMA Media Group is also signatory with AFTRA and an affiliate contractor of the Cleveland Chapter of NECA.