Helping Local Unions celebrate milestones with extravagant events.
Over 600 IBEW Local 42 members and guests filled the Premier Ballroom at Foxwoods Resort and Casino to celebrate 50 years of Brotherhood on Dec. 7.
The BMA Media Group Special Events Department guided the Local through the entire event planning process, from finding an event location, selecting the entertainment and determining meal options.
In addition to planning event details, BMA handled the branding, logistics and event production. Roughly 650 Local 42 members and guests attended the celebration in Mashantucket, Conn.
The detail-oriented Special Events Team created, negotiated and produced event timelines, logos, site surveys, run of show schedule, hotel accommodations, invitations, RSVP- tracking, floor plan design, seating charts, media relations and many other aspects of the event production.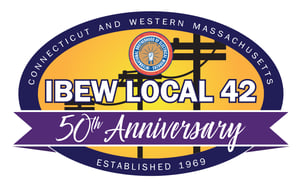 In conjunction with the event, BMA produced a special Commemorative Program Book, complete with the history of the Local. Creating a concise and impressive history of the Local required in-depth research in coordination with long-time members, officers and staff of the Local.
BMA distributed sponsorship rate cards, sold advertisements and curated congratulatory messages from friends, partners and members of the local to be included in the Program Book or displayed during the celebration.
Additionally, a BMA video team spent time in the Local 42 jurisdiction obtaining interviews and job site footage to produce a 50th anniversary video. A trailer of the video was presented during the event and the final product will be completed in the coming weeks to include footage of the celebration. Check out the trailer that BMA created, below:
"Working in the field with the men and women of IBEW Locals across the country is a key component in creating an accurate representation of a Local's history," said Ray Liptak, Vice President Special Events at BMA Media Group.
For the evening of the event, BMA changed the Premier Ballroom at Foxwoods Resort and Casino into an exciting environment for the guests to celebrate the success of the Local. The event program included speakers, hor d'oeuvres, meal service and entertainment.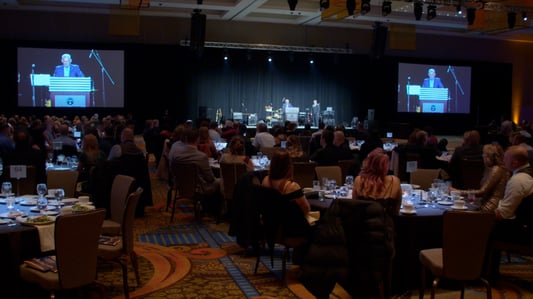 IBEW Local 42 Business Manager, Michael Treadwell, felt the event was a great success and appreciated the skills and professionalism BMA provided..
"Thanks so much for an amazing event, you guys killed it," said Treadwell. "We have been getting so much great feedback."
If you are interested in learning about the services BMA Media Group can provide for your Local with an upcoming milestone event, reach out to us today!
---
LaborTools powered by BMA Media Group is used to help strengthen our union client's organizations. From working with unions from the local level to the international, with training funds and labor management partnerships, as well as other labor organizations, BMA has experience with organizations of all sizes. We are here to create and implement unique and customized marketing campaigns for our clients.
At BMA, we offer services in the following categories: union event services (from writing the history of your union to executing the logistics of an event,) video production, website design, union marketing campaigns, print and broadcast advertising, social media management, development of print materials, building trades industry education, labor public relations and crisis management, union merchandise, as well as strategic branding and marketing of union organizations.
BMA Media Group is a Union Building Trades Contractor, signatory with International Brotherhood of Electrical Workers Union Local 673 and International Union of Painters and Allied Trades DC 6 / Sign Display and Allied Trades Local 639. BMA Media Group is also signatory with AFTRA and an affiliate contractor of the Cleveland Chapter of NECA.