Unique Venue is "No Fish Story" as Centerpiece of Anniversary Event for IBEW Local 234!
Members and guests of the International Brotherhood of Electrical Workers (IBEW) Local Union 234 came together on Feb. 29 to celebrate 50-years of brotherhood at what many consider to be the world's greatest Aquarium.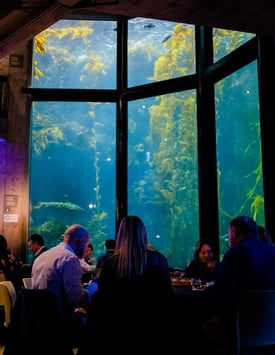 Situated in Monterey, Cali., the Monterey Bay Aquarium has been on the forefront of marine conservation, presenting the marvels of the ocean to visitors for more than 35 years. As the crown jewel of the region, the Aquarium quickly became the favored location to celebrate the amazing 50-year milestone of IBEW Local 234.
BMA Media Group's Special Events Department was commissioned to create a unique, turn-key, celebratory event to properly recognize the services that Local 234 members have provided to Monterey, Santa Cruz and San Benito counties over the last half-century.
BMA Staff guides union through one-of-a-kind event
The BMA Events staff guided Local 234 through the event planning process, which included creating event timelines and logos, securing the venue and event entertainment, as well as many other aspects and details of the celebration. In addition to planning, BMA handled the event branding, logistics and production.
As the BMA Events team traveled to California, they were ready to take on the unique nature of production for the IBEW 234 event. Taking place at the Monterey Bay Aquarium, normal visiting hours were still permitted, which created a challenge, but BMA was prepared. With the aquarium being cleared shortly after 5 pm, our production team raced to beat the clock with less than an hour for "load in," much less time than is needed for many events. IBEW 234 members and guests began to arrive at 6 pm.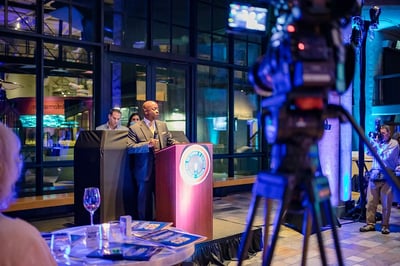 By adding audio, video, lighting fixtures, program books and a podium, all of these elements came together to create a customized IBEW 234 look to the Aquarium.
The celebration was one-of-a-kind, as IBEW 234 didn't want a traditional sit-down dinner. Instead, they wanted something more unique. BMA coordinated with the venue to offer a "strolling dinner" that allowed guests to eat while they experienced the world-renowned Monterey Bay Aquarium. Cocktails and hors d'oeuvres stations were positioned among the exhibits.
A DJ played music for guests who danced the night away in the aquarium atrium after IBEW Local 234 Business Manager Lamont Adams and IBEW 9th District International Vice-President John O'Rourke delivered memorable speeches that truly captured the moment.
Commemorative Union History Book
BMA also produced a Commemorative Program Book with an inclusive history of Local 234, dating back to when the Local was chartered on March 1, 1970. Creating a concise and impressive history of IBEW Local 234 required in-depth research in partnership with Local 234 officers and staff, as well as IBEW museum curator Curtis Bateman.
As part of the creation of the Program Book, BMA also distributed sponsorship rate cards, sold event sponsorship packages and advertisements and curated congratulatory messages from industry partners, contractors and friends, which helped underwrite the cost of the event.
After the successful completion of this unique event, BMA received gratitude and appreciation for the partnership that was made with IBEW 234.
"Thank you for everything," said Adams. "The event was a night to remember!"
BMA's Video Production Department continues to work with Local 234, producing a commemorative and celebratory video. This video will feature footage from the anniversary event, historical images documenting the union's history, recent job site footage of members and interview clips from officers.
If your union has a milestone event on the horizon and would like to learn more about the special event services that BMA Media Group can provide, please contact us.
---
LaborTools powered by BMA Media Group is used to help strengthen our union client's organizations. From working with unions from the local level to the international, with training funds and labor management partnerships, as well as other labor organizations, BMA has experience with organizations of all sizes. We are here to create and implement unique and customized marketing campaigns for our clients.
At BMA, we offer services in the following categories: union event services (from writing the history of your union to executing the logistics of an event,) video production, website design, union marketing campaigns, print and broadcast advertising, social media management, development of print materials, building trades industry education, labor public relations and crisis management, union merchandise, as well as strategic branding and marketing of union organizations.
BMA Media Group is a Union Building Trades Contractor, signatory with International Brotherhood of Electrical Workers Union Local 673 and International Union of Painters and Allied Trades DC 6 / Sign Display and Allied Trades Local 639. BMA Media Group is also signatory with AFTRA and an affiliate contractor of the Cleveland Chapter of NECA.