BMA Media Group has access to thousands of union-made merch to meet our clients needs
Throughout the past year and a half, the Columbus/Central Ohio Building and Construction Trades Council has turned to BMA Media Group to help them purchase customized American made, union made merchandise to promote their brand awareness.
As a longtime ASI (Advertising Specialty Institute) member, BMA has access to thousands of manufacturers and distributors and can quickly search for requested items at a variety of price points.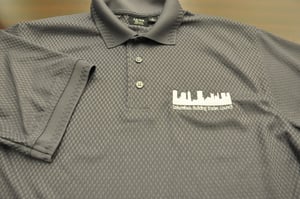 By partnering with BMA, one of Ohio's largest building trades councils was able to save time and money by letting BMA do all the work.
BMA sourced, designed and ordered C/COBCTC lapel pins, hardhat stickers, pull-up banners, exterior vinyl banners and embroidered polo shirts, jackets and pullovers. Additionally, BMA ordered customized embroidered polo shirts and jackets, envelopes and letterhead, a table cover and pull-up banners for a program run by the C/COBCTC called Building Futures.
Instead of wasting time going through catalogs and conducting extensive internet searches to source the items, hiring a graphic artist, dealing with vendors, etc., C/COBCTC leaders were able to focus on their jobs during a major building boom.
Oftentimes, American made and union-made items cost more than products imported from overseas. The difference between them is quality and supporting your fellow union Brothers and Sisters.
The Columbus/Central Ohio Building and Construction Trades Council wanted to purchase quality merchandise to support the labor movement,while staying within their budget. By partnering with BMA, they were able to do so.
By ordering customized merchandise, the C/COBCTC was able to get their organization into the public eye by putting their logo on a variety of items.
Your union can do this too! Whether you are in need of shirts, jackets, hats, pens, stickers, keychains, mugs, tumblers, etc., turn to BMA Media Group to help your organization improvise branding.Whether you need American made, union made items for conferences, recruiting events or other industry events, reach out to BMA, so that we can help your organization.
---
LaborTools powered by BMA Media Group is used to help strengthen our union client's organizations. From working with unions from the local level to the international, with training funds and labor management partnerships, as well as other labor organizations, BMA has experience with organizations of all sizes. We are here to create and implement unique and customized marketing campaigns for our clients.
At BMA, we offer services in the following categories: union event services (from writing the history of your union to executing the logistics of an event,) video production, website design, union marketing campaigns, print and broadcast advertising, social media management, development of print materials, building trades industry education, labor public relations and crisis management, union merchandise, as well as strategic branding and marketing of union organizations.
BMA Media Group is a Union Building Trades Contractor, signatory with International Brotherhood of Electrical Workers Union Local 673 and International Union of Painters and Allied Trades DC 6 / Sign Display and Allied Trades Local 639. BMA Media Group is also signatory with AFTRA and an affiliate contractor of the Cleveland Chapter of NECA.