Boomtime is good for business — but it opens up a host of challenges.
For the Southwest Pipe Trades Association (SWPTA), the economic and construction booms across portions of its three-state territory of Oklahoma, Texas and New Mexico was a great challenge.
But it was a challenge nonetheless.
The trade association, composed of 13 United Association Local Unions, desperately needed to revamp its website to catapult its recruitment and organizing efforts in order to help its affiliated Local Unions respond to economic and construction booms that only seemed to further explode in the eye of the pandemic.
As digital technologies and ways we connect and interact continue to evolve, the Southwest Pipe Trades Association found it necessary to upgrade its website with enhanced design and navigation.
This included improved site Search Optimization and integrating the latest lead generation tools that deliver data driven, meaningful results. Further, their new, easy to use website features a Content Management System (CMS), built on the WordPress platform that enables the SWPTA staff to make updates and tweaks at their discretion.
As a full-service union marketing agency, BMA Media Group was the perfect choice. The company revamped the website to create an engaging platform with clear Call-to-Action buttons that are easy to navigate, propel and deliver meaningful results.
Our Approach: Streamlined navigation with clear CTAs
BMA Media worked with the SWPTA to develop a new logo and updated style guide to cement and broaden its existing branding. It updated any incorrect information on the website and added supplemental content to existing pages. It updated tags and existing code to be more search engine friendly and rank higher in Google. Images of the trade union association's own members, on actual job sites fulfilling their roles, were integrated into the website whenever possible.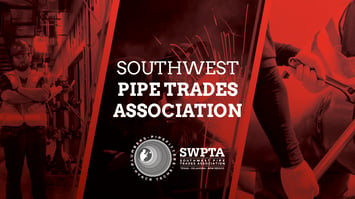 Most importantly, it created numerous landing pages with clear Calls-to-Action to be used in each local union's various digital advertising/recruitment campaigns. The new forms gather metric-driven contact information that is compiled into a database for recruiting purposes.
BMA rebuilt the website to better serve the needs of the SWPTA and its affiliated Local Unions. It built an expanded blog section to be easily updated with news and other features. The design allowed for content to be posted in two separate locations — the primary blog as well as a new government affairs section, depending on the purpose of the content.
A revamped tool to meet demand
The Southwest Pipe Trades Association is able to use the new website for a multitude of communication needs. And most importantly, it's able to harvest new, meaningful leads to pursue its recruitment and expansion efforts.
All of its digital advertising is sent to a landing page optimized to deliver results. Each local Union's recruitment efforts are now propelled by data driven analytics and performance tracking so it understands the performance value of various campaigns based on meaningful metrics.
The new website is more responsive and engaging, streamlined and navigable. The design is also user-friendly on the backend — changes and tweaks can be made simply and intuitively, with no need to understand complicated computer coding. The end result is an impressive product that tells a cohesive story with clear Calls-to-Action that deliver meaningful results.
Boom times are good news for labor. Now the Southwest Pipe Trades Association has a website that can truly keep up with its newfound demand.
Looking for a new website to facilitate your association of Local Union's growth? BMA delivers over 30 years of experienced website design, marketing and promotion. We'll empower your expansion — help you seize success and ride the wave. Learn more today!
---
LaborTools powered by BMA Media Group is used to help strengthen our union client's organizations. From working with unions from the local level to the international, with training funds and labor management partnerships, as well as other labor organizations, BMA has experience with organizations of all sizes. We are here to create and implement unique and customized marketing campaigns for our clients.
At BMA, we offer services in the following categories: union event services (from writing the history of your union to executing the logistics of an event), video production, website design, union marketing campaigns, print and broadcast advertising, social media management, development of print materials, building trades industry education, labor public relations and crisis management, and union merchandise, as well as strategic branding and marketing of union organizations.
BMA Media Group is a Union Building Trades Contractor, signatory with International Brotherhood of Electrical Workers Union Local 673 and International Union of Painters and Allied Trades DC 6 / Sign Display and Allied Trades Local 639. BMA Media Group is also signatory with AFTRA and an affiliate contractor of the Cleveland Chapter of NECA.