LaborTools, powered by BMA Media Group, is proud to announce the launch of the new Mechanical Insulators Labor Management Cooperative Trust (LMCT) website.
The Mechanical Insulators Labor Management Cooperative Trust is a collaboration between the Heat and Frost Insulators Union and the Mechanical Insulation and Firestopping industry contractors.
Design and Style of new LMCT Brand
BMA Media worked with the Mechanical Insulators LMCT to build a brand from the ground up. With details such as the organization's name, colors, logos and taglines, the new brand and style guide was developed with the union, contractors and the industry in mind.
All of the assets created for the Mechanical Insulators LMCT site and future print pieces will follow the style guide, ensuring consistent promotion on all platforms, which will help with recognition among target audiences.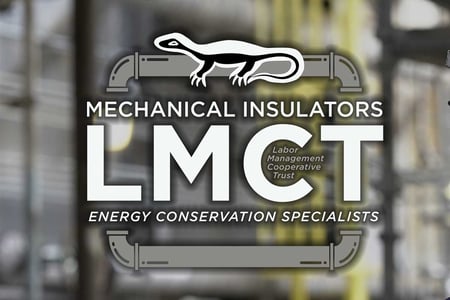 Implemented pieces in the website redesign included:
Branded logo
Color scheme
Style guide
Site map
New, expanded content
New images
Device responsiveness
Improved calls-to-action
Tagging and tracking systems for analytics
Search engine optimization
Valued Industry Content Creation
The Mechanical Insulators LMCT website features many valuable aspects for the union and its contractors. For instance, a number of webpages detail the type of work they perform, while other pages highlight the specific industries where that work is performed.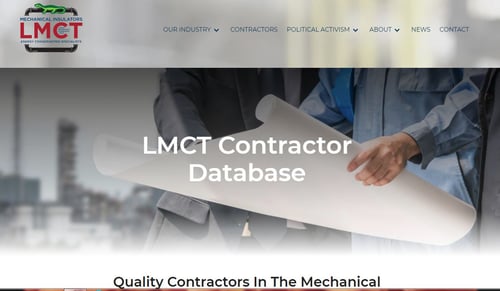 There was also a need for political representation on the Mechanical Insulators LMCT site. In addition to the pages dedicated to federal issues in the U.S. and Canada, BMA Media created web pages for every state and province in the two countries. These pages contain information about legislation that will potentially affect the industry, the elected officials and PAC guidelines specific to each state.
Some of the website content was then incorporated into several print pieces, which will be used to further promote the industry, while also generating additional website traffic.
Website Platform
The new Mechanical Insulators LMCT site is built on the Hubspot platform, allowing for specific content-focused campaign execution. The platform will allow in-bound marketing (a technique for drawing customers to products and services via content marketing, social media marketing, search engine optimization and branding) and customer service related efforts on behalf of the organization in order to best reflect the industry and help disseminate information to target audiences.
BMA Media is proud of its relationship with the Insulators Union at the International, Conference and Local levels, as well as recent successful projects with the Mechanical Insulators LMCT.
BMA Media Group has the experience and skills to create quality websites and ongoing marketing initiatives.
Contact
BMA Media to get started on your website redesign today!
---
LaborTools powered by BMA Media Group is used to help strengthen our union client's organizations. From working with unions from the local level to the international, with training funds and labor management partnerships, as well as other labor organizations, BMA has experience with organizations of all sizes. We are here to create and implement unique and customized marketing campaigns for our clients.
At BMA, we offer services in the following categories: union event services (from writing the history of your union to executing the logistics of an event,) video production, website design, union marketing campaigns, print and broadcast advertising, social media management, development of print materials, building trades industry education, labor public relations and crisis management, union merchandise, as well as strategic >branding and >marketing of union organizations.
BMA Media Group is a Union Building Trades Contractor, signatory with International Brotherhood of Electrical Workers Union Local 673 and International Union of Painters and Allied Trades DC 6 / Sign Display and Allied Trades Local 639. BMA Media Group is also signatory with AFTRA and an affiliate contractor of the Cleveland Chapter of NECA.