Local union shares milestone event with BMA Media
When the International Brotherhood of Electrical Workers Local 540 (Canton, OH) decided to celebrate its 100th anniversary, they knew it had to be a celebration worthy of the longstanding history and accomplishments. That is why IBEW Local 540 decided to work with LaborTools - to create a one-of-a-kind, top-tier event complete with entertainment, food, drinks and camaraderie.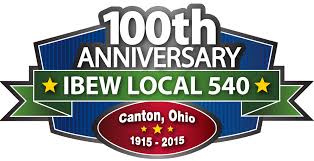 LaborTools produced all the event marketing, from designing an anniversary logo to creating invitations, event tickets, and conceptualizing the gifts for guests. Our professionals also researched, wrote, and designed the commemorative program book highlighting the union's century-long history and accomplishments. Our event staff completely transformed the Canton Memorial Civic Center; from a large, empty area into an elegant, intimate event space for the September event.
For over 20 years, LaborTools, powered by BMA Media Group, has produced award-winning, audience captivating events of varied sizes. Our attention to detail and the ability to multitask effectively has helped BMA Media become the 'go-to' choice of unions looking to commemorate milestones.
Whether you are hosting a large-scale event or large conference, let LaborTools help you create an event to remember.
---
LaborTools powered by BMA Media Group is used to help strengthen our union client's organizations. From working with unions from the local level to the international, with training funds and labor management partnerships, as well as other labor organizations, BMA has experience with organizations of all sizes. We are here to create and implement unique and customized marketing campaigns for our clients.
At BMA, we offer services in the following categories: union event services (from writing the history of your union to executing the logistics of an event,) video production, website design, union marketing campaigns, print and broadcast advertising, social media management, development of print materials, building trades industry education, labor public relations and crisis management, union merchandise, as well as strategic branding and marketing of union organizations.
BMA Media Group is a Union Building Trades Contractor, signatory with International Brotherhood of Electrical Workers Union Local 673 and International Union of Painters and Allied Trades DC 6 / Sign Display and Allied Trades Local 639. BMA Media Group is also signatory with AFTRA and an affiliate contractor of the Cleveland Chapter of NECA.