With over twenty celebratory event productions for local unions across America under our belt, there are no signs of slowing down for the events team of LaborTools powered by BMA Media Group.
Just this week we contracted with IBEW Local 82 in Dayton, Ohio to produce its 100th Anniversary Celebration, to be held on June 25, 2016 at the Dayton Convention Center.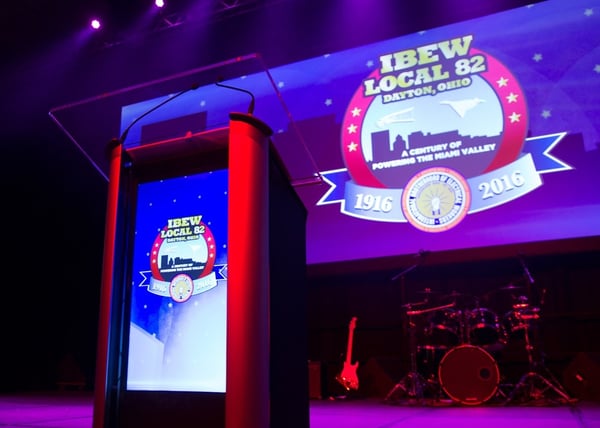 LaborTools will be responsible for planning and implementing all facets of the event, including staging, audio and video, catering management, floor plans, entertainment and more. We will also be fully researching and producing a video documentary, as well as a commemorative program book to hand out to the evening's guests as a keepsake of this once-in-a-lifetime event.
Before Local 82's grand celebration, we will also be producing the 125th Anniversary of UA Local 50 (Toledo, OH) and the 100th Anniversary of IBEW Local 540 (Canton, OH). We will also be producing an event in September 2016 for the IBEW 11th District during the union's International Convention in St. Louis.
We look forward to helping IBEW Local 82 - and all other local unions we are currently working with - put on a celebration that their members and guests will never forget!
Planning an event but have no idea where to start? Let us help you with our expertise of producing union events nationwide for over 20 years.
---
LaborTools powered by BMA Media Group is used to help strengthen our union client's organizations. From working with unions from the local level to the international, with training funds and labor management partnerships, as well as other labor organizations, BMA has experience with organizations of all sizes. We are here to create and implement unique and customized marketing campaigns for our clients.
At BMA, we offer services in the following categories: union event services (from writing the history of your union to executing the logistics of an event,) video production, website design, union marketing campaigns, print and broadcast advertising, social media management, development of print materials, building trades industry education, labor public relations and crisis management, union merchandise, as well as strategic branding and marketing of union organizations.
BMA Media Group is a Union Building Trades Contractor, signatory with International Brotherhood of Electrical Workers Union Local 673 and International Union of Painters and Allied Trades DC 6 / Sign Display and Allied Trades Local 639. BMA Media Group is also signatory with AFTRA and an affiliate contractor of the Cleveland Chapter of NECA.