Through social distancing, BMA Media Group's video production team creates workable environment
It might be a surprise to some people since post production work for video projects can be very equipment intensive, but BMA Media Group's award-winning Video Department has seamlessly picked up their projects and moved to a "work from home" set up.
As little as 10 years ago, this may have been a different kind of challenge, but thanks to fast internet, we're able to transfer files, remotely access our edit suite workstations and collaborate via video conferencing and screen sharing.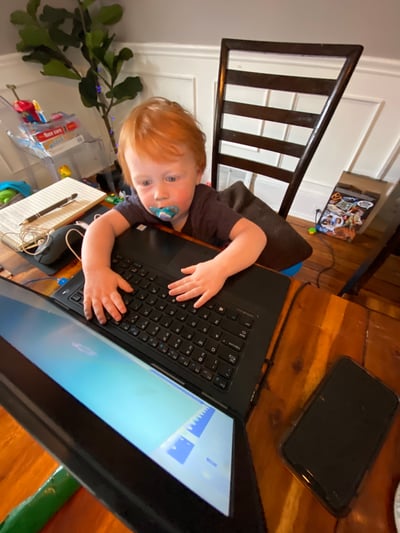 In the short time since we've been asked to "shelter in place," I've been able to cull and edit thousands of photos, including client headshots, write blogs, make edits to previously completed videos and edit commercial spots for our union clients. Short of video/photo shoots, we're operating at the same capacity we were before the virus came stateside. Of course, I miss being in a broadcast quality edit suite!
Houses transform to offices as BMA Media continues to work on union projects
At our house, from 8 a.m. to 6:30 p.m., the dining room table has been transformed into the family work station. My wife and I have our laptops and tablets set up in clear view of our two little boys who have been working on their screentime skills along with karate moves. We take turns tending to the boys depending on who has a phone/conference call. We've even developed hand signals to let each other know if we are in the middle of a call or an edit.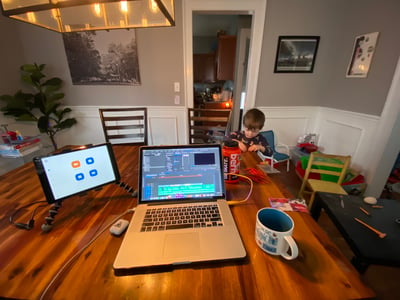 Working alongside my wife has been a big positive through all of this. She works as a Brand and Audience Development Manager for a local News Station. Being able to bounce ideas off of someone who works in a similar industry has proven to be a great asset.
This is an interesting change for me -- someone who spends vast amounts of time a week alone editing videos and creating motion graphics. As a video editor, I've been practicing social distancing for my entire career… so working from home has actually brought me closer to people throughout the day.
If anything will be learned through all of this, even when the worst is thrown at us, we can still serve our clients.
Through the recommended "shelter in place" social distancing, our BMA Media Group team is still working together, on all projects and with all of our current clients.
---
LaborTools powered by BMA Media Group is used to help strengthen our union client's organizations. From working with unions from the local level to the international, with training funds and labor management partnerships, as well as other labor organizations, BMA has experience with organizations of all sizes. We are here to create and implement unique and customized marketing campaigns for our clients.
At BMA, we offer services in the following categories: union event services (from writing the history of your union to executing the logistics of an event,) video production, website design, union marketing campaigns, print and broadcast advertising, social media management, development of print materials, building trades industry education, labor public relations and crisis management, union merchandise, as well as strategic branding and marketing of union organizations.
BMA Media Group is a Union Building Trades Contractor, signatory with International Brotherhood of Electrical Workers Union Local 673 and International Union of Painters and Allied Trades DC 6 / Sign Display and Allied Trades Local 639. BMA Media Group is also signatory with AFTRA and an affiliate contractor of the Cleveland Chapter of NECA.