IBEW signatory contractor, BMA Media's video crew guide to shooting with unions.
So, you've been contacted by someone from the Union. They say they're working on a recruitment video, or maybe they said a safety video … or a commercial? Did they say they are filming a documentary?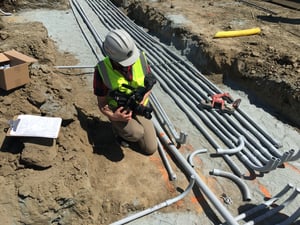 They would like to obtain footage of their members working, and they think your jobsite, or shop, is the perfect location for them to film.
It's only logical that you might have reservations about having a camera crew on your jobsite.
And we understand.
Let us tell you why there's nothing to worry about, and how this can be a potentially great marketing tool for the project and the organization.
Appropriate steps that Unions should take when tasked with video project:
First, BMA's film/photo crews are no strangers to construction job sites. Our crews are dues-paying union members who have been on a wide array of job sites across the country. We come prepared with our own steel toe boots, hardhats, hi-vis vests and safety glasses, as well as any other items you may require for safety.
We understand that safety is the top priority. BMA crew members have years of experience editing video ABOUT safety and are well versed on what's required on job sites.
That brings us to our second point: "What if BMA shoots footage of someone not wearing the proper PPE?"
This happens from time to time, but those shots never see the light of day. We have a strict approval process. We try to eliminate all of those shots before they even make it to the client for review.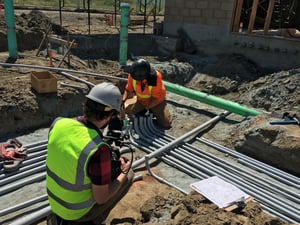 Every video we produce MUST be approved by our client before it is ever released in a public setting. At this point it can also be shared with any other stakeholder involved before the piece is finalized and put to use.
In specific cases we can bring a wireless monitor for the superintendent/foreman to watch along as we capture b-roll ensuring we are shooting our intended subjects.
Or perhaps you have a different concern: "We're on a tight deadline!"
We understand this 100 percent. We're not in the business of getting in the way. In most cases, we can be a "fly on the wall," capturing real work as it happens. If there is any wiggle room for us to give direction, it's usually quick, and we move on swiftly.
Depending on the work you have and the type of project we are shooting, we'll usually spend anywhere from 45 minutes to an hour-and-a-half on site. We travel lightly, most often in a crew of two or three, keeping the amount of gear to a minimum. Our "go-to" kit is just a camera, tripod and a battery powered light.
The most important fact to remember is that we are here to make you and the union building trades look good. In fact, we've been making the construction trades look awesome for years and we're only getting better … have a look for yourself:
---
LaborTools powered by BMA Media Group is used to help strengthen our union client's organizations. From working with unions from the local level to the international, with training funds and labor management partnerships, as well as other labor organizations, BMA has experience with organizations of all sizes. We are here to create and implement unique and customized marketing campaigns for our clients.
At BMA, we offer services in the following categories: union event services (from writing the history of your union to executing the logistics of an event,) video production, website design, union marketing campaigns, print and broadcast advertising, social media management, development of print materials, building trades industry education, labor public relations and crisis management, union merchandise, as well as strategic branding and marketing of union organizations.
BMA Media Group is a Union Building Trades Contractor, signatory with International Brotherhood of Electrical Workers Union Local 673 and International Union of Painters and Allied Trades DC 6 / Sign Display and Allied Trades Local 639. BMA Media Group is also signatory with AFTRA and an affiliate contractor of the Cleveland Chapter of NECA.