Better Membership Communication Possible After Upgrade
The International Brotherhood of Electrical Workers Local 567 recently replaced their old, outdated website with a newly redesigned website, with the help of LaborTools powered by BMA Media Group.
The new IBEW Local 567 website now provides members a multitude of reasons to frequently visit the site - from important updates and information to the ability to pay dues. The changes will make this Maine Local stronger.
The new website includes several new features.
For instance, the interactive homepage includes updated, pertinent news provided by Local 567 leaders, easy shortcuts to frequently used pages, links to social media, a calendar and more.
The new website also has information that is accessible and targeted for the public.

Some parts of this website redesign included:
Color scheme
Style guide
Site map
Mobile optimization
Search engine optimization
New tool for union recruitment
The updated site also provided Local 567 with a new tool to recruit new members, both potential apprentices and experienced non-union electricians. New pages with information about the benefits of joining Local 567 and how to apply were easy to find with the valuable information potential members need to know.
The site also devoted space highlighting the benefits of becoming a signatory contractor to help with union organizing efforts geared to grow market share. For current contractors, the website includes all the necessary contact information, as well as content promoting the quality work completed by its members employed by Maine's best electrical contractors.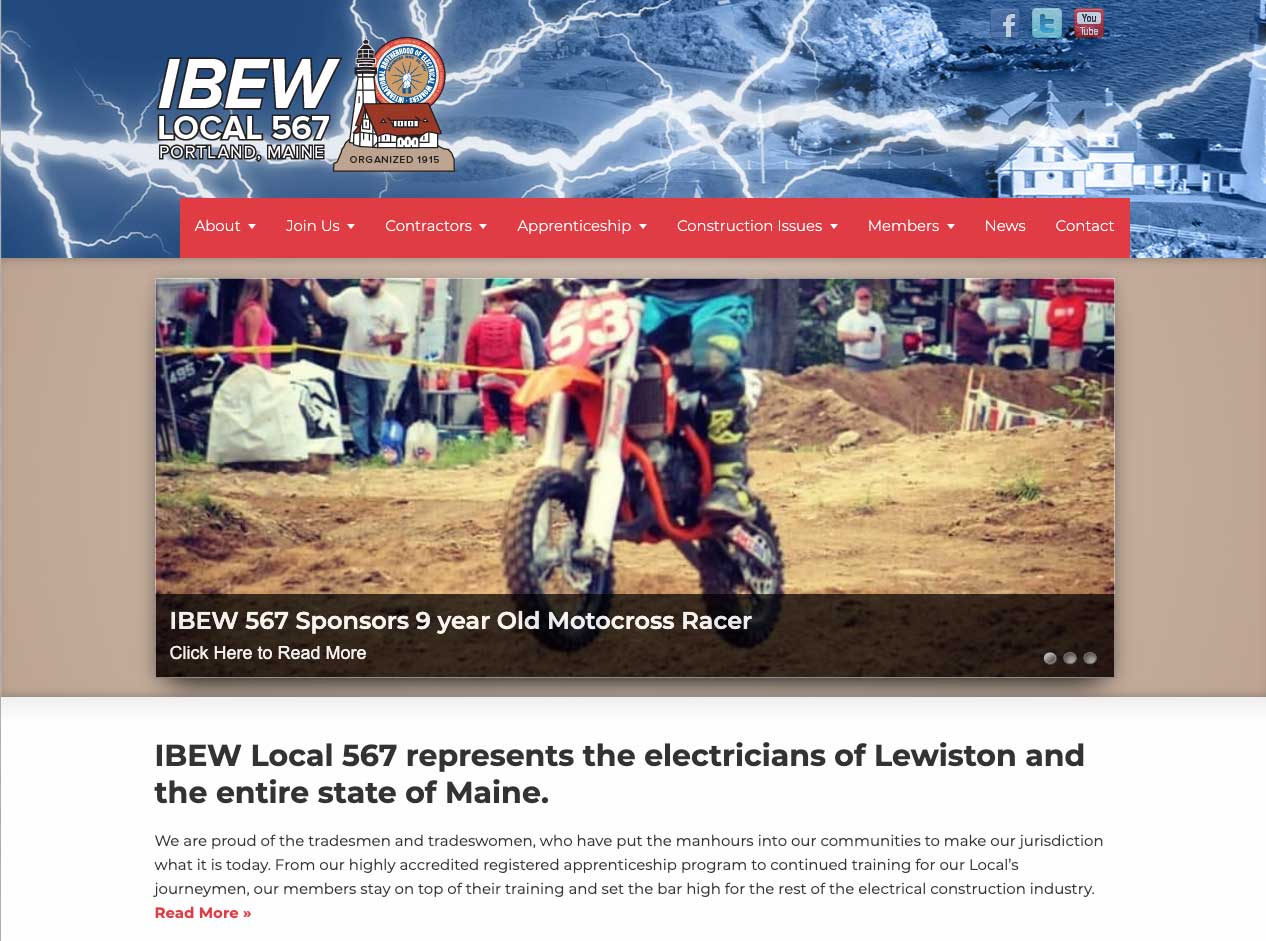 Member-driven section improves communication
IBEW 567's newly designed website expanded the members section, providing critical information members regularly seek, including the following:
Re-Sign Form
Photo Gallery
Journeyman upgrade course information
Job calls
Even more resources kept in a password protected section
Are you interested in BMA Media Group redesigning your union website? check out our website design service. Then, when you feel you are ready to discuss further, contact LaborTools.
---
LaborTools powered by BMA Media Group is used to help strengthen our union client's organizations. From working with unions from the local level to the international, with training funds and labor management partnerships, as well as other labor organizations, BMA has experience with organizations of all sizes. We are here to create and implement unique and customized marketing campaigns for our clients.
At BMA, we offer services in the following categories: union event services (from writing the history of your union to executing the logistics of an event,) video production, website design, union marketing campaigns, print and broadcast advertising, social media management, development of print materials, building trades industry education, labor public relations and crisis management, union merchandise, as well as strategic branding and marketing of union organizations.
BMA Media Group is a Union Building Trades Contractor, signatory with International Brotherhood of Electrical Workers Union Local 673 and International Union of Painters and Allied Trades DC 6 / Sign Display and Allied Trades Local 639. BMA Media Group is also signatory with AFTRA and an affiliate contractor of the Cleveland Chapter of NECA.