Cleveland Building Trades Super-Brochure Wins Gold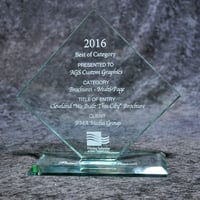 BMA Media Group is, once again, an award-winning multimedia firm. The company, and AGS Custom Graphics, won the Gold Award from Printing Industries of Ohio and Northern Kentucky for the Cleveland Building and Construction Trades Council "Super-Brochure We Built This City."
The Cleveland Building and Construction Trades Council challenged LaborTools, powered by BMA, to create a standout print piece that would get attention and demand a second look. It needed to illustrate, unmistakably, that the highly trained and skilled workers in the building trades literally, "Built This City."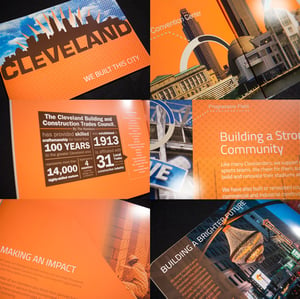 After some brainstorming, LaborTools developed a few initial concepts and honed in on a direction that articulated CBCTC's message. Together with our client, BMA Media Group decided to do an oversized piece with custom high-quality photos of the landmark projects the trades worked on in Cleveland. We also decided to employ high-end custom printing techniques.
A bold graphic and contrasting color were used on the cover of the book, with a raised UV varnish to give the piece not only a one-of-a-kind look but also a unique tactile feel when held.
The inside of the brochure features glamor shots of iconic Cleveland building sites and utilized spot gloss on the photos to make them pop and use spot dull varnish over the text areas.
Rounded corners and an interior pocket flap (to add a letter or supporting literature) complete the customization of the book.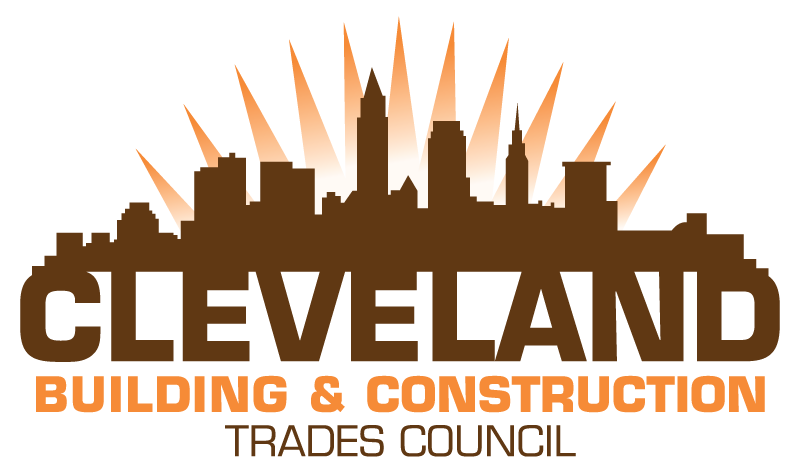 When you need to reach your target audience, don't risk your message being lost in the clutter. Call LaborTools, or click here, and let us make sure your message is conveyed, loud and clear.
---
LaborTools powered by BMA Media Group is used to help strengthen our union client's organizations. From working with unions from the local level to the international, with training funds and labor management partnerships, as well as other labor organizations, BMA has experience with organizations of all sizes. We are here to create and implement unique and customized marketing campaigns for our clients.
At BMA, we offer services in the following categories: union event services (from writing the history of your union to executing the logistics of an event,) video production, website design, union marketing campaigns, print and broadcast advertising, social media management, development of print materials, building trades industry education, labor public relations and crisis management, union merchandise, as well as strategic branding and marketing of union organizations.
BMA Media Group is a Union Building Trades Contractor, signatory with International Brotherhood of Electrical Workers Union Local 673 and International Union of Painters and Allied Trades DC 6 / Sign Display and Allied Trades Local 639. BMA Media Group is also signatory with AFTRA and an affiliate contractor of the Cleveland Chapter of NECA.