Ohio's only construction industry union newspaper
It was in the spring of 2013 when the team at LaborTools, powered by BMA Media Group, began working on a total redesign of two related construction trades publications, along with the logistics involved in developing and delivering a redesigned full-color unified publication to be called, The Labor Citizen.
As we got closer to the printing of our first edition in June, we were ecstatic to realize the construction of the new Cleveland Convention Center would be completed at about the same time.
Such a major project, covered by a Project Labor Agreement, was completed ahead of schedule and significantly under budget (almost $90 million), thanks to the skills and abilities of Cleveland area union construction trades.
BMA was retained by the Cleveland Building and Construction Trades Council to update and then manage every aspect related to the publication of America's Oldest Labor Newspaper. And we kicked it off with an excellent cover story on the Convention Center.

While BMA has a long history of successfully producing print materials, The Labor Citizen was new territory in that it was a regular monthly publication where we not only created content but also handled circulation/subscription and advertising.
In June of 2016, we were proud to begin our fourth year publishing The Labor Citizen. And as luck would have it, we started "Volume 4" with another Cleveland-area PLA success story – the opening of the new Downtown Hilton Hotel also completed ahead of schedule and under budget.
In between those milestone events, BMA has worked to expand the reach of the publication to cover union construction news from all across Ohio on a regular basis. Stories from Cincinnati, Dayton, Columbus, Toledo and all parts in between have graced the cover.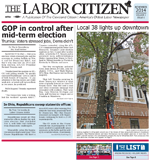 And while the news BMA has created for each edition has been a mix of relevant state and national union construction news, the submitted content received from subscribing Local Unions has also improved. This has made The Labor Citizen an outstanding member communication product, often replacing expensive monthly newsletters many Locals struggled to produce and mail to its members.
Overall, circulation has increased more than 25 percent since we started, with goals to continue growing even more.
While BMA's Communications Manager, Tom Germuska Jr., has served as the Editor of every edition since June 2013, the real miracle worker that makes every issue of The Labor Citizen pop is BMA's Assistant Graphic's Manager, Karen Amicarelli. Karen's combination of patience and graphic design wizardry are the key to the timely and visually impressive production of every edition.
The entire BMA staff that works on The Labor Citizen looks forward to many more successful years of publication. Any construction union interested in subscribing to The Labor Citizen can request details by sending an email to info@laborcitizen.com. Anyone interested in advertising in The Labor Citizen can contact our sales team atads@laborcitizen.com.
---
LaborTools powered by BMA Media Group is used to help strengthen our union client's organizations. From working with unions from the local level to the international, with training funds and labor management partnerships, as well as other labor organizations, BMA has experience with organizations of all sizes. We are here to create and implement unique and customized marketing campaigns for our clients.
At BMA, we offer services in the following categories: union event services (from writing the history of your union to executing the logistics of an event,) video production, website design, union marketing campaigns, print and broadcast advertising, social media management, development of print materials, building trades industry education, labor public relations and crisis management, union merchandise, as well as strategic branding and marketing of union organizations.
BMA Media Group is a Union Building Trades Contractor, signatory with International Brotherhood of Electrical Workers Union Local 673 and International Union of Painters and Allied Trades DC 6 / Sign Display and Allied Trades Local 639. BMA Media Group is also signatory with AFTRA and an affiliate contractor of the Cleveland Chapter of NECA.