Commercial promotes work of lineman's union.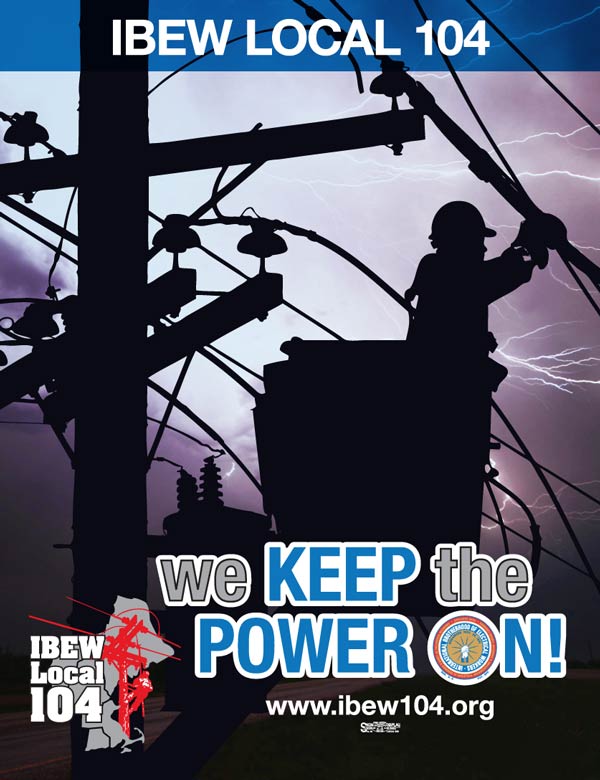 In order to share the value of what they do on a daily basis with the communities they serve, IBEW Local 104, working with LaborTools, powered by BMA Media Group decided to create a 30 second TV spot that would make it clear that they deliver a valuable service to their communities, day in and day out.
BMA wanted to let the public know who was responsible for keeping the electrical grid up and running. BMA knew that while power is something everyone needs, the men and women who do the hard work of keeping the power on often go unnoticed. BMA brought visibility to these often invisible heroes, by creating a strong theme that would identify the brothers and sisters of Local 104 as those heroes. Because of this Labor Tools decided on a strong theme for the spot: "We Keep the Power On."
From concept and script, to production and post-production, BMA Media Group handled all aspects of the production and distribution of the advertisement on behalf of IBEW Local 104.
If you want to learn more about services we provide at BMA Media Group, click here and we can reach out to you.
---
LaborTools powered by BMA Media Group is used to help strengthen our union client's organizations. From working with unions from the local level to the international, with training funds and labor management partnerships, as well as other labor organizations, BMA has experience with organizations of all sizes. We are here to create and implement unique and customized marketing campaigns for our clients.
At BMA, we offer services in the following categories: union event services (from writing the history of your union to executing the logistics of an event,) video production, website design, union marketing campaigns, print and broadcast advertising, social media management, development of print materials, building trades industry education, labor public relations and crisis management, union merchandise, as well as strategic branding and marketing of union organizations.
BMA Media Group is a Union Building Trades Contractor, signatory with International Brotherhood of Electrical Workers Union Local 673 and International Union of Painters and Allied Trades DC 6 / Sign Display and Allied Trades Local 639. BMA Media Group is also signatory with AFTRA and an affiliate contractor of the Cleveland Chapter of NECA.