Construction Union Recruiting Campaign
What do hammerhead sharks, ice cold beer, water slides and disease free patients have in common? You may be tempted to say, "Nothing at all," but you'd be wrong. They are all related by their reliance on complex plumbing systems, and the skilled men and women who install and maintain them every day.
This past summer, LaborTools, powered by BMA Media Group, completed one of its largest projects to date, a nationwide apprenticeship recruitment project for the United Association's International Training Fund that specifically focused on the HVACR profession. Upon completion, this project garnered praise from various levels of the UA - from business managers and contractors to international leadership. Because of this warm reception, discussions about similar apprenticeship recruitment video projects for other trades within the UA-ITF soon began.
It was decided that the second phase of the "You See More" apprenticeship recruitment campaign would focus on plumbing service.
LaborTools immediately met with contractors, instructors, training directors and business managers, where ideas were shared and the vision of the project began to take shape.
The discussions proved successful in not only collecting ideas and gaining insight into the plumbing service industry, but in setting provisional schedules, choosing shoot sites and making contact with key personnel.

After this primary research, LaborTools began filling them out with applicable secondary research to create the various scripts that we would use as a base for our video productions.
As we did with the HVACR project, we focused on four fascinating locations that most people would not normally associate with plumbing and plumbing service. We wanted to show our theme of "You See More," not simply say it. The goal of each video was to show that plumbing is more than its stereotypes. LaborTools wanted to explore the complexity of the trade while showing that for this industry to grow, it will need to attract bright, inquisitive and diligent young people who can see past stereotypes and superficialities.
This campaigns target audience is the young people who can look at reality, economic as well as physical reality, with a clear eye.
To show the complexity of a variety of plumbing systems while ensuring both video and print pieces were captivating, we selected intriguing locations including aquariums, breweries, hospitals and water parks.
These locations proved successful in relaying our message to our target audience, UA members and union affiliates.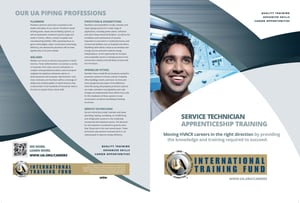 In addition to research, scripting, shooting and editing, we also performed dozens of interviews with apprentices, journeyman, instructors, contractors and leadership that were used to supplement and support the campaign message.
The interview footage was also utilized in a secondary video that targeted various types of career influencers including teachers, guidance counselors and parents.
After several months of planning, scripting, shooting and editing, the complete set of videos was delivered to the client along with the print pieces that completed the campaign message. BMAs hope is that this project and subsequent projects like it will help the UA recruit the best apprentices possible, now and for years to come.
If you want to learn more about the services we provide at BMA Media Group, or are interested in creating a similar project, please reach out to us today!
---
LaborTools powered by BMA Media Group is used to help strengthen our union client's organizations. From working with unions from the local level to the international, with training funds and labor management partnerships, as well as other labor organizations, BMA has experience with organizations of all sizes. We are here to create and implement unique and customized marketing campaigns for our clients.
At BMA, we offer services in the following categories: union event services (from writing the history of your union to executing the logistics of an event,) video production, website design, union marketing campaigns, print and broadcast advertising, social media management, development of print materials, building trades industry education, labor public relations and crisis management, union merchandise, as well as strategic branding and marketing of union organizations.
BMA Media Group is a Union Building Trades Contractor, signatory with International Brotherhood of Electrical Workers Union Local 673 and International Union of Painters and Allied Trades DC 6 / Sign Display and Allied Trades Local 639. BMA Media Group is also signatory with AFTRA and an affiliate contractor of the Cleveland Chapter of NECA.