Highly Produced Union Construction Videos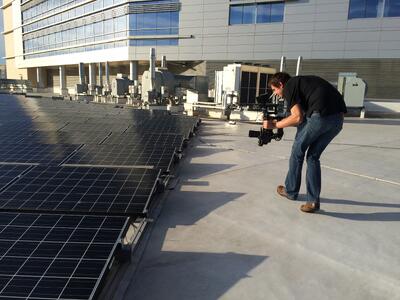 It's no secret that advancements in technology have exploded over the past 25 years.
I think we've all seen the RadioShack ad from 1991 (the same year BMA Media Group was founded, no less) featuring a full page of electronics whose capabilities we now hold in our back pocket.
As a video guy, these advancements are doubly exciting on a professional level.
Take, for instance, the MoVI handheld camera stabilizer by Freefly. It's designed to be very light and virtually silent while allowing for unrestricted and incredible camera moves. From the moment I laid eyes on it, I knew this was the future and had to be part of our video productions.
The MoVI is a highly sought after camera stabilization system made up of motors, lightweight aluminum rods and magic, obviously. If the camera operator wants to down a large black coffee and chase it with shots of espresso...no problem! (Disclaimer: not recommended.)
The best part is you can get amazing Hollywood-style camera moves without a large crew and a 3-ton truck of equipment.
With that said, you can imagine my delight when we got to take one out with a Canon C300 for a recruitment video we are working on for the United Association International Training Fund. I even let my co-editor, Jon, play with it while on location at University Hospitals Ahuja Medical Center (see picture).
I can't wait to lay this footage down and see this piece come to life!
Whether you need a 30-second commercial or a video commemorating the entire history of your union, LaborTools powered by BMA Media Group has the resources and experience to create a high-definition production from start to finish. Contact us today to get started.
---
LaborTools powered by BMA Media Group is used to help strengthen our union client's organizations. From working with unions from the local level to the international, with training funds and labor management partnerships, as well as other labor organizations, BMA has experience with organizations of all sizes. We are here to create and implement unique and customized marketing campaigns for our clients.
At BMA, we offer services in the following categories: union event services (from writing the history of your union to executing the logistics of an event,) video production, website design, union marketing campaigns, print and broadcast advertising, social media management, development of print materials, building trades industry education, labor public relations and crisis management, union merchandise, as well as strategic branding and marketing of union organizations.
BMA Media Group is a Union Building Trades Contractor, signatory with International Brotherhood of Electrical Workers Union Local 673 and International Union of Painters and Allied Trades DC 6 / Sign Display and Allied Trades Local 639. BMA Media Group is also signatory with AFTRA and an affiliate contractor of the Cleveland Chapter of NECA.