The Insulation Industry International Apprentice and Training Fund (IIIATF) wanted to create an apprentice recruitment campaign to stand out from their non-union competitors and other building trades unions.
BMA Media Group was selected by the training divisions of the Heat and Frost Insulators and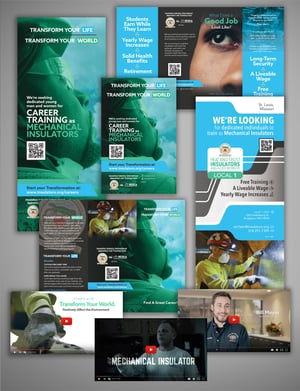 Allied Workers to create this campaign, and after performing research, developed a recruitment plan to stay true to their organizational goals to attract new members.
The campaign theme was "Transform your life: Transform your world" and was designed to target men and women between the ages of 16 and 20.
Once a target audience was determined, this full marketing campaign was implemented across the U.S. to introduce high school and college-aged people to career possibilities in the insulation industry.
Components to this complete marketing recruitment campaign included:
Logo, theme and brand development

Printable tools; brochures, posters, stickers

Table cloths

Career-based website pages

Customized landing pages

Text messaging campaign

Eight audience driven videos and a "Career Day" video
All of these pieces worked together to create a comprehensive marketing campaign to recruit and maintain apprentices.
BMA added new, career-based pages to an existing website, in order to create a new section to focus strictly on careers within the construction industry for the Insulators. These pages used the campaign's style guide to maintain consistency and branding. Anyone navigating through this section could click on a call-to-action button to take them to one of several campaign-specific landing pages, where they could sign-up for more information.
LaborTools, powered by BMA Media Group is proud to help the IIIATF send a powerful message to their target audience.
If your organization is looking to run a recruitment campaign in the future, contact us for more information on how BMA can help you.